Yes, it has been a long time since I felt motivated and energized enough to put on my thinking cap and compose something. A big part of the problem is the critters pictured here in front of computer.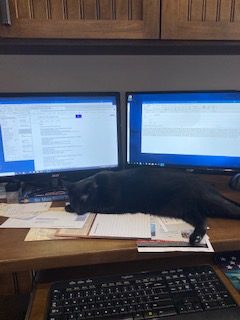 One follows me around the house like a puppy dog, and plunks down right in front of the screen when I'm trying to get things done. The other has to get into the act just to annoy the entire family.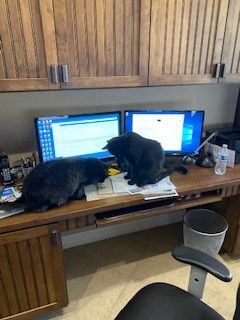 In all fairness, it's truly not just the fault of the cats. The other hurdles are lack of ideas and old-fashioned laziness. Why write when I can bury my nose in a book? Speaking of books, we have a rather large and lovely collection of books that we will likely never read again since new ones are continually coming out. I thought about boxing up some of them and donating to charity, but then it dawned on me that it could be fun to involve each of you by offering a free book every few weeks. I'm seriously not above buying friends and paying for ideas!!! To be eligible to win, send me a short email with one suggestion for a blog. Your name will be tossed into a hat. I know you all are just dying to hear my opinion (yeah, right) on a multitude of subjects so come forth with suggestions. I think this contest could be fun. I did write a story a couple of weeks ago that I was going to publish on this site. However, a writing contest came to my attention so I sent it in and am waiting to hear sometime the week of November 4 if I'm a big winner. Seriously doubt it, but it was fun waiting until the final day to submit an entry—-still honing those procrastination skills! One of the rules of their contest included never before published material. That's why I'm holding off on sharing with you my entry "When is Enough Enough?" I will plan to post it the first week of November. Please do enter my contest where you too could be the big winner of one gently used but very much loved book. I'm insisting on a deadline of Wednesday, October 23 so we can put the winner's book in the mail before a much anticipated trip to Dallas. It's also to help you refrain from procrastinating. Seriously, git 'er done!