You've seen the TV commercials for gadgets that do everything except make the bed and do the laundry.  So many times over the years I have let myself be lulled into believing the ads that say "it slices, it dices, it chops and purees. It makes you happy and joyful and life is a breeze."  My latest acquisition is the silicone egg cooker.  This six pack wonder is supposed to make perfect hard boiled eggs without the shell; and let me tell you when Jerry and I saw the commercial for this wondrous gem, we both were so excited you'd have thought we'd just won the lottery.  It's because we both love egg salad sandwiches and potato salad with more eggs in the salad than potatoes, but neither of us enjoy peeling eggs.  We balked at the $20 plus price for a pack of six, but lo and behold,  I found the same product on a site we frequently view looking for bargains. It was only a couple of bucks so how could we go wrong? Waiting for the package to arrive was almost as exciting as awaiting our first born child those many years ago (without the swollen ankles and mood swings.  Side note: first born will be 49 next week on Jerry's birthday.   Where do the years go?  Ah, but I digress yet again. Now back to the eggs.  We don't know what we did wrong,  but  we tried doing two separate batches. The first time we used organic brown eggs and a pan that was a tight squeeze for the containers, but they didn't tump  over.  The eggs came out  looking nothing like the perfect oval, flawless eggs  on the TV commercial.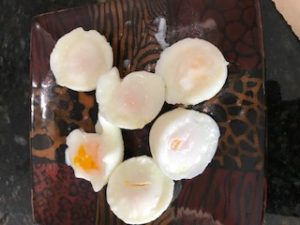 For the second batch we used free range white eggs and a larger pan so the containers weren't all squished in, but with all that room, they just tumped over and water got in the containers. It took twice as long using this product than cooking the eggs the old fashioned way.  Here's where we need your help! Seriously, if you have this product and have had great results like those perfect TV eggs, please do share the secret with us.  In the meantime, I'm  going back to my favorite sister's method for hard boiled eggs.  Actually, Mar is my only sister,  and she has shared many words of wisdom over the years. However, it took her 72 years to tell  me the secret of perfect boiled eggs.  Recipe follows:
Bring water to rolling boil. Add eggs (a spaghetti server is perfect for slipping eggs in one at a time)  and simmer for 15 minutes.  Remove from heat and using spaghetti server or large ladle, slip  the eggs into ice water for 5 minutes.  When cool enough to handle you will find they really do peel quite easily. Effective immediately, we are going back to this  method, thanks to sister dear!
I think the silicone egg cooker set will make a great white elephant gift! We may throw in  some of our other "bargains" that turned out to be nothing like they were represented on TV commercials.
On a serious note, it was so wonderful to hear from so many after my last blog either with your email or comments on the blog page.  My strength is returning, and we have much to be thankful for including dear ones like you!
"I thank my God every time I remember you." Philippians 1:3