Many of you responded to the question I put out a while back about stem cell  therapy, and we thank you so much for your caring and concern.  I received too many replies to answer each individually so here in a nutshell is what happened.  Both Jerry and I were convinced stem cell therapy could be the answer to, or at least help me cope with, the challenges of my disease; but after a detailed conversation with the doctor at Stem Cell Centers here in Phoenix, we learned it's just not an option for those on chemo.  Of course, I cried on the way home and briefly slipped into pity party mode,  but then within a few days found this quote by Rev. Barbara Brown Taylor (from the book "Patches of Godlight" by my favorite author, Jan Karon) "God does not care…whether I am happy or not. What God cares about,  with all the power of God's holy being, is the quality of my life…not  just the continuation of my breath and the health of my cells–but the quality of my life, the scope of my life, the heft and zest of my life…fear of death always turns into fear of life, into a stingy, cautious way of living that is not really living at all…to follow Jesus means going beyond the limits of  our  own comfort and safety. It means receiving our lives as gifts instead of guarding them as possessions."
As Hanukkah and Christmas draw near, our prayer is you and I…..all of us, find healing in our health problems but even more so in our relationships, those that have been splintered or seemingly irretrievably broken.  Years ago in an Ann Landers column, she shared these words of wisdom,  "We must remember that hatred is like acid. It does more damage to the vessel in which it is stored than to the object on which it is poured."  Please join us in just letting go of negative feelings and bad stuff!!!!  I love the song, "Please Come Home for Christmas" that could be a message FROM any of us TO any of us.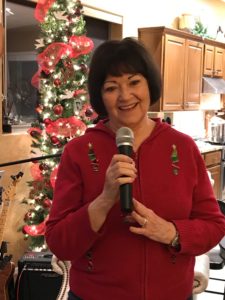 We tried to do an audio of Kelly Clarkson's "Please Come Home for Christmas" (Bells will be ringing), but this was a challenge to get it to work on so many different versions of Apple iPads and iPhones. I wanted to dedicate it to my BFF, Coleen, who you know changed her address from Anthem to Heaven the end of October. Coleen is the one who encouraged me to try karaoke and keep singing. It has been so much fun,  and I miss doing duets with her but know we'll be singing around the throne together one day with no flat notes, cracks in our voices or any other imperfections. Blessed and Merry Christmas and keep singing.  It makes a merry heart and God loves our songs of praise!!!